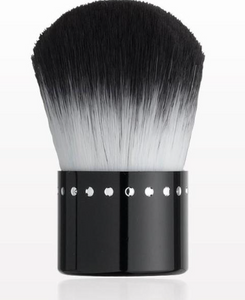 Vegan luxe kabuki brush
Regular price $48.00 Sale
Description
Introducing the NEW Vegan Luxe Kabuki. A professional-grade, vegan-friendly synthetic kabuki. Issada's Faux Luxe hair is super soft on the surface of the skin. They are densely packed for an ultra-full brush head, and each hair is pre-waved, which is the secret to a flawless application.
The pre-wave technology mimics natural hair to give superior product hold and application to the skin. Perfect for Mineral Powder application.
CHOOSING YOUR KABUKI
All our kabuki's can be used for applying your mineral foundation, but when deciding which kabuki to use, keep in mind the rose gold is bigger in size, so will pick up a light to medium application of product before disbursing to the skin. The Vegan Lux Kabuki is a small/medium size and will pick up more product - perfect for someone who Is after a medium to full coverage application when powder is being applied.
Kabuki brushes can also be used for applying cream and liquid foundations too
Features
Vegan Friendly – pre-waved, synthetic
Super Soft
Densely packed
Benefits
The pre-waved technology allows for excellent product pick-up and professional, seamless blending.
Soft application without irritation to the skin.
Delivers excellent coverage

Application

A must-have for Mineral Powder Foundations.  Can also be used with Baked Velvet Correctors, Mineral Rice Powders, Bronzers, Highlighters and Blush.

How  To Use


Pick up desired amount of product evenly through the brush and gently apply using light circular movements.

Make Up Secrets

*For photographic work, continue applying powder foundation down neck, décolletage and shoulders, blending down tops of arms, for completely flawless skin and seamless colour blend between face and body.

BRUSH CARE:

Shampoo and condition your brush hair regularly to clean and maintain softness.  Always angle the brush downwards when rinsing with water and leave Kabuki's to dry on their side to avoid water running into the ferule.  

Use Issada Brush Cleaner & Sanitiser in between each use for a bacteria free clean application every time.