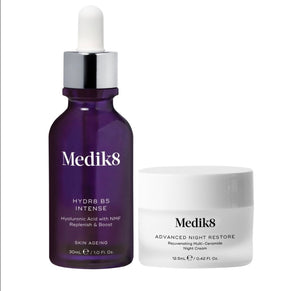 Medik8 Rescue Pack
Regular price $119.00 Sale
Deeply Hydrate and Nourish Your Skin with this Limited Edition Medik8 Hydration Rescue Kit.
Valued at $149 this is a saving of $30!
Contents:
Medik8 Hydr8 B5 Intense 30ml
Medik8 Advanced Night Restore 12.5ml
Medik8 Hydr8 B5 Intense 30ml
The original hyaluronic acid serum – supercharged. Harnessing all of the hydration power of our best seller, Hydr8 B5™, with added Natural Moisturising Factors alongside a potent triple-action hydration booster which recharges the skin's internal moisture source.
Hydr8 B5 Intense™ helps to kickstart the natural production of hyaluronic acid in the skin, blocks its breakdown and works in conjunction with hyaluronic acid to deliver immediate and long-term hydration for all-day moisture. The lightweight serum is intensified with Natural Moisturising Factors, which make up the skin's integral hydration system; grabbing onto moisture for supple and nourished skin. Hydr8 B5 Intense gives your skin the power to withstand dehydrating changes in temperature and humidity, leaving the complexion showered in moisture.
 NO ARTIFICIAL FRAGRANCE
 NO SYNTHETIC COLOURS
 PARABEN FREE
 NO PHTHALATES
 VEGAN FRIENDLY
 ALCOHOL FREE
 CRUELTY FREE
Key Benefits
Maintaining the same textual characteristics of the original best-seller, this lightweight, fast-absorbing serum upgrade is the ultimate antidote for parched, dry skin. Just a few drops twice a day will leave your skin hydrated beyond recognition. Simply massage the berry-toned serum into skin and feel the difference in a matter of seconds.
The super-soft serum receives its vibrant purple hue from antioxidant-rich saskatoon berry. This nourishing superfood protects the skin's natural stores of hyaluronic acid to promote a supple complexion from the inside out. This intensive serum leaves the complexion endlessly plump and dewy.
How it Works
Amplify your skin's natural hyaluronic acid levels with Hydr8 B5 Intense. Harnessing the power of our original best-seller serum with multi-weight hyaluronic acid and vitamin B5 combined, a triple-action booster complex supercharges the power of hydration.
AMPLIFY:
Biosaccharide gum works in conjunction with hyaluronic acid which can deliver immediate and long-term hydration for all-day moisture. This can lead to a lasting reservoir of hyaluronic acid in the upper layers of the skin for added bounce and moisture.
STIMULATE:
Soy extract can help to stimulate the natural production of hyaluronic acid.
PROTECT:
Purple-hued superfood saskatoon berry helps to fight the enzymes that break down hyaluronic acid within the skin, preserving its moisture-boosting power.
Combined, the tri-booster can provide both immediate and long term hydration, plumping up the appearance of fine lines and restoring that covetable dewy glow.
Natural Moisturising Factors (NMF):
Your skin instinctively produces Natural Moisturising Factors, such as amino acids, fatty acids and sodium PCA, which it uses to boost water retention. These components increase hydration, which in turn helps to recharge the skin's flexibility and help it to function in optimal conditions.
Medik8 Advanced Night Restore
Rejuvenating Cellular Repair Cream
An advanced antioxidant night cream that works while you sleep to restore and deeply hydrate skin. Including Medik8's Midnight Repair Complex™, which features powerful antioxidants such as dragon fruit extract, saskatoon berry and restoring peptides to encourage cell repair throughout the night. Advanced ceramides are used in an optimised ratio to help plump and hydrate skin as well as restoring its natural defence barriers. Powerful antioxidants work to counteract damage caused by free radicals throughout the day. Designed to be used after vitamin A, the formula works perfectly alongside retinol to moisturise skin and leave the complexion smooth, supple and younger-looking.
What's changed?
Addition of ceramides, Midnight Repair Complex and optimised for use with vitamin A serums.
NO ARTIFICIAL FRAGRANCE
NO SYNTHETIC COLOURS
PARABEN FREE
NO PHTHALATES
ALCOHOL FREE
CRUELTY FREE
Key Benefits
An intensely moisturising antioxidant night cream with a calming botanical fragrance including lavender, sweet orange oil and neroli. Packed with antioxidants to flood the skin with restorative and protective benefits. The formula is deeply hydrating and absorbs into the complexion quickly. Skin feels smooth and plump, while the gentle aroma prepares you for a restful night's sleep.
How it Works
This nourishing night cream gently recuperates the skin after a long day. As twilight falls, the skin cells are at their most active and ready for overnight repair. Advanced Night Restore uses a Midnight Repair Complex, combining saskatoon berry, a cell repairing peptide and dragon fruit extract. These 3 exceptional antioxidants tackle free radical damage which has occured throughout the day's exposure to UV rays and pollution. Nourishing ceramide 1 and 3 are combined with naturally occurring skin lipids to deeply restore the skin's barrier. This boosts the skin's natural protection against skin-ageing ready for the next morning. The night cream is optimised for use with vitamin A serums. N-acetyl glucosamine works in synergy with retinol to boost the production of hyaluronic acid, helping to firm, plump and encourage a youthful-looking complexion.