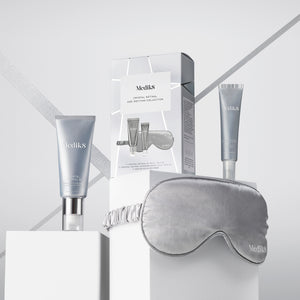 Crystal Retinal Age Defying Collection
Regular price $175.00 Sale
A fantastic intro set to powerful, cosmeceutical skincare filled with radiance-boosting goodness. 
Medik8
Crystal Retinal Age-Defying Collection includes two full-size Retinal bestsellers, Medik8 Crystal Retinal 6 and Medik8 Crystal Retinal Ceramide Eye 6, as well as a lux satin eye mask to help you get your beauty sleep. 
Suitable for those who currently use Retinol and are looking to level up, this limited edition dynamic duo works 11 times faster than traditional retinol and helps improve the look of fine lines, wrinkles, skin tone, and skin texture while you sleep. Love. 
What's included in the Medik8 Crystal Retinal Age-Defying Collection?
1 x Medik8 Crystal Retinal 6 30ml
A bestselling Vitamin A serum. If you're looking to fight all signs of aging, then the Medik8 Crystal Retinal 6 is your answer. Reduce the appearance of fine lines and wrinkles, improve skin tone and refine skin texture with this powerful facial treatment thats 11x faster than classic forms of retinol. Thanks to its technologically advanced formula, the Medik8 Crystal Retinal 6 rapidly resurfaces skin, helping to boost collagen to help reveal a radiant, youthful complexion. Crystal Retinal application should be phased in gradually. Use twice a week for the first 2 weeks, every other day for the next 2 weeks, then every day. After cleansing in the evening, blend a small amount over face and neck before applying your regular Medik8 moisturiser.
1 x Medik8 Crystal Retinal Ceramide Eye 6 15ml
An innovative, all-in-one eye solution formulated with retinaldehyde, Ceramides, Hyaluronic Acid and Chamomile extract to improve the appearance of wrinkles, puffiness, and dullness, while nourishing and comforting the delicate eye area.  This innovative, multitasking, hardworking formula from the skincare experts at Medik8 has been specifically formulated for the delicate skin around the eyes, and is here to boost brightness, radiance, and smoothness in a big way. At night after cleansing and applying all of your other face serums apply a rice grain-sized amount of Crystal Retinal Ceramide Eye 6 around the eye area, avoiding the eyelids. Use your fingertips to gently pat the formula into the eye contours. As with all Vitamin A formulas, application should be phased in gradually: Start by using this eye solution twice a week for the first 2 weeks Then every other night for the next 2 weeks Then every night 
1 x Medik8 satin eye mask