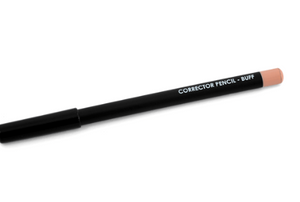 Corrector pencil- Buf
Regular price $36.00 Sale
Description
VEGAN / GLUTEN FREE
KEY INGREDIENTS:
Palm Kernel Oil
Fruit Wax

The ultimate multi-tasker! Gentle formula soothes and nourishes, while concealing and perfecting a range of skin concerns. The perfect tool for executing makeup artist secret techniques!
Features
Gentle formula
Soft, malleable texture
Powdery finish
Multi-purpose
Benefits
Soothes and protects sensitive eyes/skin
Easy, smooth, no drag application
More budge-proof than traditional pencils
Executes many different 'makeup artist secrets'

Application

Apply gently with feather-like strokes.
Use Buff pencil to give the appearance of larger, clearer eyes. Apply around the inner corners of eyes to widen and brighten. Blend/smudge with a Q-Tip if necessary. 
Line inner rim to remove redness for a flawless eye. 
Conceal small blemishes by dotting on and then blending out. 
Perfect size tip for concealing spidery broken capillaries, or nasal fold redness.

Make Up Secrets

Use to correct lip line and create new shape. Erase a natural lip line with Buff, blending to colour in the lip slightly, and then re-draw with a neutral Ultimate Lip Liner like Bashful.
Use to clean and sharpen the edges of a strong lip. After applying a vibrant lip (eg; red), trace just outside the lip line with Buff, to correct any mistakes, sharpen the line and provide an extra waxy barrier against lipstick bleeding.