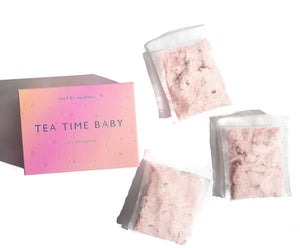 Tea time baby- cocomojito
Regular price $22.95 Sale
She's back and better than ever… put your hands together for Tea Time Baby! This effortless take on our best-selling Cocosoak is no time waster – this antioxidant bundle of joy is here to deliver a mess free bath experience (without compromising on luxe).

Craving a pool-side mojito? We'll do you one better – live out your tropical dreams *bathtub edition* with a lush blend of Organic Coconut Milk and fruity beauties thanks to COCOMOJITO. She can even be found in the cutest biodegradable bags made from plant materials.
The How-To: Add to a warm bath, swish your bath tea gently around (please do not open contents from the tea bag) and her goodness will dissolve in the warm water (just like a fancy cup of tea).

Remove tea bag from bath prior to releasing the water. Hydrate post bath with our best-selling BODY OIL.

In cooler conditions the bath tea contents can solidify, but don't fret as they'll dissolve as usual when added to a warm, running bath. Store these babes in dry conditions.

Please note: If Pregnant or Breast Feeding, always check with your Practitioner if this product is suitable for use.

Soak up the bath time goodness with the magic of Tea Time Baby.

Add 1 bag of this regenerating, antioxidant, moisture-rich bath soak and swish around in warm water until dissolved. It's as easy as that! Sit back and soak up the powers of this Organic Coconut Milk soak.

We recommend using as much as your heart desires, because nobody ever said too many baths was a bad thing!

Get gleaming with BATH TO BODY OIL post-bath for that extra juicy moisture kick!